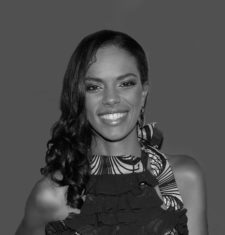 Noella Musunka
Ambassador
Noella Coursaris Musunka is the founder of Malaika, a US charitable organization whose mission is to empower Congolese girls and their communities through education.
Noella is an international model and humanitarian who was born in the Democratic Republic of Congo. As she travelled the world, she discovered a platform from which to share her passion for human rights. Fiercely proud of her African heritage, Noella's determination to help improve the lives of Africa's youth has made her an international advocate for their welfare. Her work with Malaika has led to invitations to present at UNICEF and Cambridge University, and she has spoken several times alongside former President Clinton at Clinton Global Initiative conferences. Noella has been interviewed about her philanthropic work on global news outlets, such as CNN and the BBC, has given a TED talk, and presented in front of top executives from multinationals like SAP and Solvay. In 2014, Noella was named one of the most influential Africans by New African magazine.
Alongside being a mother to two young children, Noella continues to work as a model but her passion is to model with meaning.