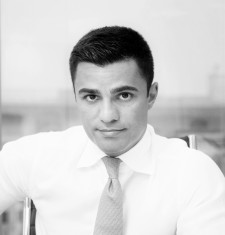 Mohammad Dastmaltchi
Co-founder, Trustee
Mohammad Hans Dastmaltchi is a serial entrepreneur and a visionary German investment banker with solid background and experience in the Banking & Finance Industry. MHD has been an entrepreneur since the age of 17 when he co-founded a fully regulated investment bank and became the youngest Co-Founder of a bank in Germany.
In total MHD has been involved in more than 80 private equity transactions either as an entrepreneur, investor or banker. Today, after 2 decades of entrepreneurship he is one of the most active and experienced investors in the financial sector in Europe.
As a strong believer that the Banking Industry is on the edge of the biggest change in history, he constantly invested in several Financial Technology companies (FinTech) as a seed investor such as Kreditech, one of Germany's largest FinTechs. Driven by passion for innovation, MHD goes beyond boundaries and constantly discovers new investment opportunities. In addition to financial services and technology, today his investment focus spreads out to Bio Hacking technologies, Life Science and Anti-Aging and scientific smart drugs with longevity.
Based in the heart of the International Financial Centre in Dubai, MHD runs Encore Investments – his own family office and merchant banking business. His focus by region lies on Germany and the Middle East and by sector – on financial services, internet and technology, life science and entertainment. Encore Investments holds stakes in about 60 various ventures and enterprises.
Among his investments, MHD is the major shareholder of Union Bank AG, Liechtenstein, a fully regulated commercial bank based in Vaduz. Union Bank AG is the 13th largest bank in Liechtenstein in terms of total assets.
Furthermore, he is shareholder of the Global Citizen, a leading lifestyle magazine in Dubai for HNWIs, Co-Founder of the Global Citizen Foundation, which places a great value on social, political and societal commitments and co-producer of multiple movies like Big Game, Goethe, Search for Happiness.
Throughout the years he has been involved in various organisations, such as World Economic Forum, Clinton Global Initiative and currently a member of YPO and a360 abundance.